Changing home network to include PIX 501 and a DMZ

ConstantlyLearning
Member
Posts: 445
I'll be making these changes later and just want to get some thoughts on my plan.
I want to add a PIX 501 to my network and create a DMZ for servers accessible from the Internet.
Currently my network is: Internet -> Netopia 2247 (SOHO gateway) -> Home LAN.
ADSL2+ Modem, NAT and routing is done on the Netopia.
Home LAN is a single IP network. (192.168.1.0/24)
I want to make this as simple as possible and build from there.
I'm thinking of changing it to this:
Internet -> Netopia -> PIX -> Home LAN
The Netopia has a 4 port switch so I'll have the DMZ come off the Netopia. One of the LAN switch ports of the Netopia will connect to E0 of the PIX. The LAN side of the PIX (E1 - E4) will be the Home LAN.
So in one IP network there'll be the LAN side of the Netopia, the servers and the WAN side of the PIX and in the other IP network there'll be the home LAN.
Thoughts? Cheers.
Image of network.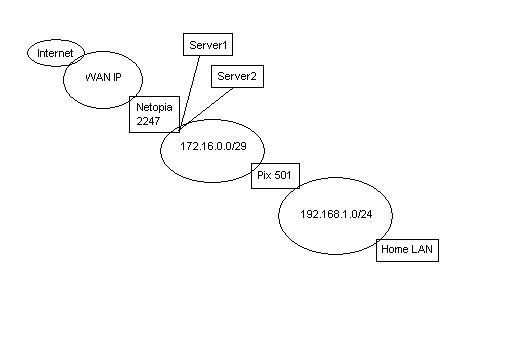 "There are 3 types of people in this world, those who can count and those who can't"