Cisco VPN-3DES-AES Strong Encryption
Hi All
I'm hoping someone may be able to help me. Recently my home Cisco PIX firewall that I have been using for the last several years which serves my home needs perfectly died on me. I thought no biggy at the time as they're dirt cheap and plentiful to pick up second hand on Ebay so I found a cheap good condition PIX 515E with the unrestricted license.
What I hadn't realised is that the VPN-3DES-AES license is not part of the unrestricted license bundle, so if you don't have this you cant use secure VPNs or more specifically/importantly in my case VPN on your iPhone. I did some research and it turns out you can however request the VPN-3DES-AES license for free from cisco.
https://supportforums.cisco.com/document/67701/asa-versions-image-names-and-licensing#Free_3DESAES_license
Awesome!
So I followed the link to the Cisco Licensing portal and logged in with my newly created Cisco ID:
https://tools.cisco.com/SWIFT/LicensingUI/Quickstart
Then go to > Get Other Licenses
> IPS, Crypto, Other...
> Security Products
> Cisco PIX Security Appliance 3DES/AES License
> PIX SW Version: PIX OS v7.x (and later releases)
> Serial Number: 809194654
What is supposed to happen now is that I'm supposed to be asked for confirmation of where to have the automatically generated license key sent to free of charge. However what I'm getting instead is a warning message that I need to accept a 'strong encryption download license agreement' apparently due to US encryption laws.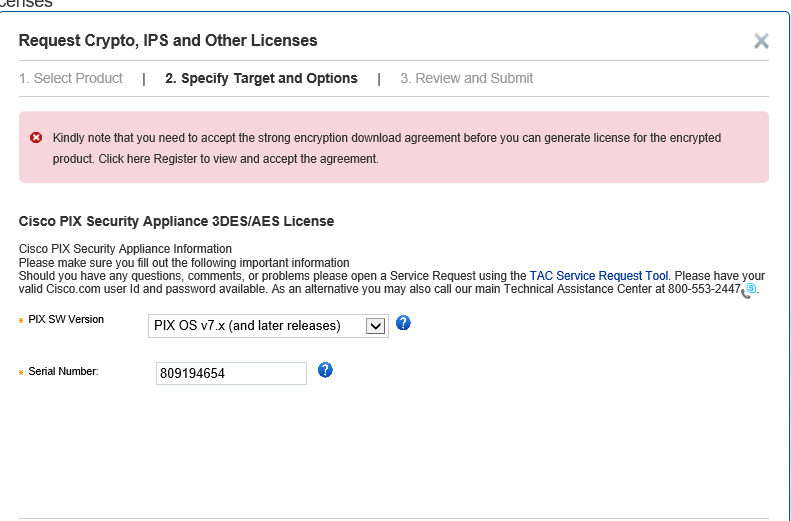 The problem I am having is that there is absolutely no way for me to accept this license agreement. There is no hyperlinks to the license agreement and it is no where to be found anywhere else on the cisco website or user account settings/preferences sections. (I have googled this issue and have found 2 other posts of people who have recently had this issue, but with no resolution unfortunately) I have called cisco and logged a support case for this so now will wait to hear back, but I'm not sure how that will play out given that I don't have any cisco support subscriptions and trying to get help with an end of life product, not to mentioned how long it might take to hear back.
Apparently the 'strong encryption download license agreement' is something you only need to have accepted once though from their portal in the past and as i have a new cisco account I'm wondering if whether maybe someone else with an existing cisco account who might've accepted this license in the past could try this for me on my behalf and then submit the activation license if it works for them?
I realise this is a slightly long shot, but it really is only 2min worth of clicking through the cisco licensing portal. I'd be very grateful if anyone is able to try this out for me and let me know how it goes for them!