CVSS- Common Vulnerability Score Calculator - Immersive Labs Exercise Y01S
Member
Posts: 1
■□□□□□□□□□
Hello everybody! 
So I'm doing some exercises on Immersive Labs on a Calculator CVSS 3.1 Base where you need to analyse a cybersecurity problem and base on that, the calculator will give you a score on how severe the attack is. 
I'm struggling to try to Classify the attacks and I would like to ask for any reading/video/study material recommendation on how to better understand how to classify the vulnerabilities. I DON'T KNOW WHICH OPTION TO CHOOSE  ON THE CALCULATOR.
Follow an example that is on the exercise. Apart from that, there are many other problems that vary from SQL injection to compromised Servidors with loads of details in each case.  I checked the official material of the calculator but still not sure about how to classify it. 
Example -Base Score Metrics
The screenshot below shows the score calculation for an unauthenticated stored XSS on a publicly available website when the HTTPOnly flag is not assigned to cookies.
The CVSS vector for this is AV:N/AC:L/PR:N/UI:R/S:C/C:H/I:H/A:N.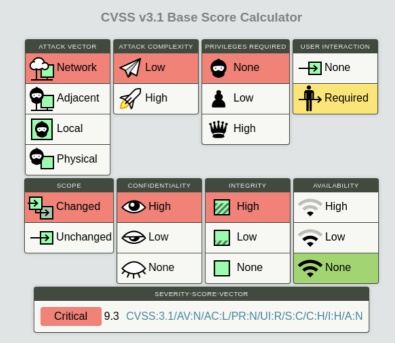 I'm sorry if it is a silly question, I'm new in the cybersecurity world. 
Cheers  
Tagged: