CrowdSec, an open-source, modernized & collaborative fail2ban for free
CrowdSec
Member
Posts: 3
■■□□□□□□□□
Dear estimated community,
We would like to introduce a new security project, CrowdSec, and most importantly collect your feedback & comments. The solution is available on GitHub and will remain open-source (MIT license) and free of charge.
CrowdSec is a hybrid security engine leveraging 2 different capabilities to protect its users.
The first one is a local agent, running on Internet-facing services. It blocks any aggressive behavior, based on various scenarios.
The second mechanism uses our global IP reputation network (run and curated by us), based on the alerts sent by our user community. Every time the behavior engine blocks an IP, all participants are informed that this IP is dangerous and should be blocked.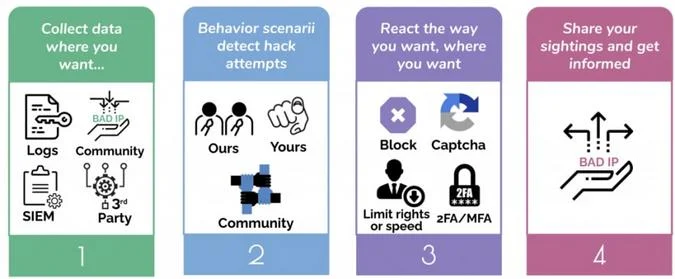 We leverage the crowd power to make this IP reputation database as accurate as possible. As of today, community members come from 50+ countries across 5 different continents and already blocked 100,000+ IPs.
We would love to hear your thoughts and engage further discussions. Unfortunately we cannot add any link to this post but you can give us a shout on GitHub (crowdsecurity/crowdsec) or on our website via the chat.
Many thanks in advance for your valuable feedback!
The CrowdSec team
Tagged: