ADSL configuration.
Hello everyone, i am just reading some cisco documentation to get a headstart on my ISCW studies..
I was looking at configuration for Cisco ADSL config... and wanted some clarification to see if I am understanding this correctly.
ok... When using the "ISP provided dsl modem" connected to the ethernet port of a cisco router. you would use PPPoE correct ?
2) i see with the Cisco wic-1ADSL, the interface is called ATM0/0.... This is an ATM port ?? and with this interface you can configure PPPoE or PPPoA... the difference is the encapsulation command under the ATM interface... (encapsulation aal5mux dialer)?
what weird is that even though it is an ATM port it can still use PPPoE.. it would seem that it would use only PPPoA, because its an ATM port.. but the only "real" difference is that encaspulation command under the ATM port that tells it to route.
3) the actual physical port doesnt get the ip address, or isn't specified by IP NAT OUT. the only thing you do under here is use the enable pppoe , or use DSL auto config mode for an ATM interface, and the other thing is associate it with the dialer interface.
4) the dialer interface actually uses the IP negotiated command, and encapsulation ppp, along with the CHAP information.
Do i seem to be understanding this???
But what gets me, is how it actually looks....
With a modular router (2600,3600) they make WIC-1ADSL cards, which are ATM interfaces and the phone line comming from the JACK goes directly into the WIC card....
like this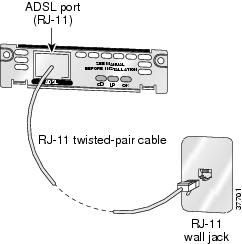 but how is it hooked up with the 877 SOHO routers... They have a WAN port that is an RJ45...
how is that hooked up to the DSL line?? In Cbt nuggets jeremy's config showed the outside interface being an Ethernet port 4... Was this port connected to the DSL modem or something ?
I believe that the only way you could use the WAN RJ45 port of the SOHO routers is by connected it to an external DSL modem.
like this
---
telephone jack
---
DSL MODEM
---
(ether4) SOHO 877/871 ???
is that how they are hooked up???
NOTE***::::: excuse my ignorance, i am new to this technology on cisco devices, and i am just trying to understand as much as possible...
again thanks
NHSCA National All-American Wrestler 135lb