Need some hints on network disaster recovery idea
So I've been tooling around with network disaster recovery ideas for our remote office. I'm a little lost on how to get routing to work correctly in this idea.
Here's a picture of what it should look like and I'll explain how it works. Maybe it's possible on Cisco gear to work the way I want it, maybe it's not.
So the T3's to Los Angeles are the primary links! The Colored lines are our GRE tunnels. Red is primary, should there be a failure of devices on the other end, we want them to go through LA and failover to our secondary tunnels going to houston. Should both sites be unreachable because of T3's both failing use the crappy DSL link to connect to LA, if LA is down try houston.
Now I can setup all these tunnels.... I just don't know how to make it work that way with HSRP... any suggestions on how I might accomplish this?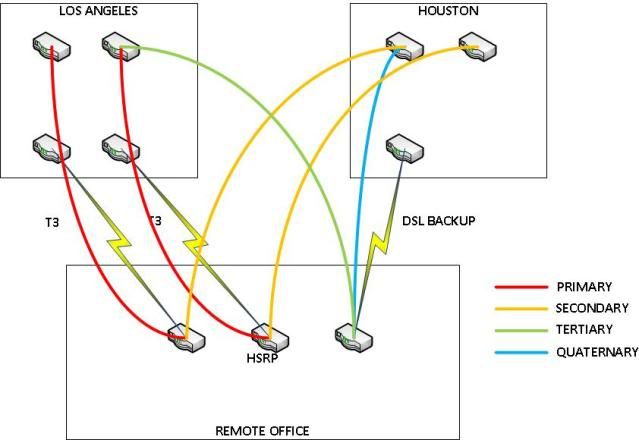 Currently Reading:
CCIE: Network Security Principals and Practices
CCIE: Routing and Switching Exam Certification Guide